They fought to a draw.
While everyone was disappointed, the result was not entirely unexpected — after all, how could anyone expect a pro-level fight when the two were clearly amateurs, whose fighting experience was limited to bar brawls and sucker punches, and who only had a few weeks of (assumedly) irregular training?
Baron Geisler was decidedly the cockier between the two, despite Kiko Matos' taunts and pee — later clarified to be beer only — spraying gimmicks. He got out into the ring at the fighters' introduction on fight night obviously confident, glorying in the support of the crowd, most of whom were largely on his side. Matos was more subdued for some reason, probably expecting the resounding boos after ironically deciding to play the bad guy.
Their fight, a significant part of the proceeds going to charity, was the final act in URCC's Fight Night on June 25, with eight other bouts coming in before. By the time the second-to-the-last match came up — URCC light heavyweight champ Chris Hofmann against Arvin Chan — Valkyrie Pool Club was packed. Like MRT at rush hour packed. The crowd was testing the bouncers, with some of the excitement fueling the tempers of a few — a girl screamed at the guy in front of her, "Wala akong pakialam sa Facebook-Facebook mo! Umalis ka sa harapan ko!" The poor guy lowered his phone sheepishly, scratched his head, sighed, and moved away.
Silence died in the venue for several minutes as the crowd screamed in anticipation of the fight they paid to see, hooting their disapproval of Matos when he stepped into the ring, and cheering "Baron, Baron, Baron!" when the literal bad boy of Philippine showbiz made his appearance, hair tussled, sporting giant sunglasses.
After the customary pre-fight preludes, it was on. Stamina still intact, Matos took the upper hand in the first round, managing to secure a dominant position atop Geisler, dishing out a striking favorite: ground and pound. Baron was clearly hurt, but clung on to life by covering his face with his arms. The ref, ever-vigilant, saw that both could still continue, and kept the fight going. Matos eventually lost steam, his punches slowly losing power and speed, and at one point was simple sitting on Geisler, doing nothing. His opponent took that same time to recover. And before everyone knew it, round one was over.
Geisler still had some fire in him when the second round began despite being visibly tired, seemingly discarding his reported taekwondo knowledge in lieu of grappling, scoring a great takedown and pinning Matos to the side of the cage. He was, for a good number of minutes, in a good position to deliver some knees which could have gotten him the KO, but it seemed it took all he had just to keep his position and keep his opponent from escaping. Having kept quiet most of the night, just shooting, I had to join the folks from Geisler's corner who were right beside me scream, "Knee! Knee!" as he held Matos down, but Baron's expression was blank, a testament to just how spent he was.
And then round two ended. After a few minutes and an announcement that there needed to be a third round — Geisler had already communicated to his corner that he could not continue (I also heard whispers around me that Matos had similar sentiments about his own ability to go to a round three) — the match ended. Alvin Aguilar, URCC owner, took to the stage, and after the announcer broke the news that the match was a draw — much to the chagrin of all in attendance, had the two shake hands, hug and declare that their feud was now over. Baron would later say in the press conference that all the heat of their drawn-out quarrel was quenched, and Kiko Matos admitted that he was just trying to hype up the fight and get under Geisler's skin.
All in all, it wasn't a complete disappointment, at least for me. I've witnessed some (and been in a few) fist fights myself, and they are not pretty things. There is no arbiter or mediator, and most folks don't care enough to break you up unless you're dangerously close to killing each other. Better they fought to exhaustion in a ring, with a referee, with triple-padded gloves, and both for charity and profit. One could even argue that it was a win-win, at least for the parties directly involved. Some folks have come out claiming that the whole thing was staged — I don't think they were there that night, and even if they were, they don't know what they're talking about. The bottom line is that neither were professional fighters, and anyone who's even just dabbled in martial arts will tell you just how much effort it takes even just to spar. I know that too, having spent a semester trying to throw people — but mostly getting thrown — in judo. All it takes is a split second to have the wind knocked out of you.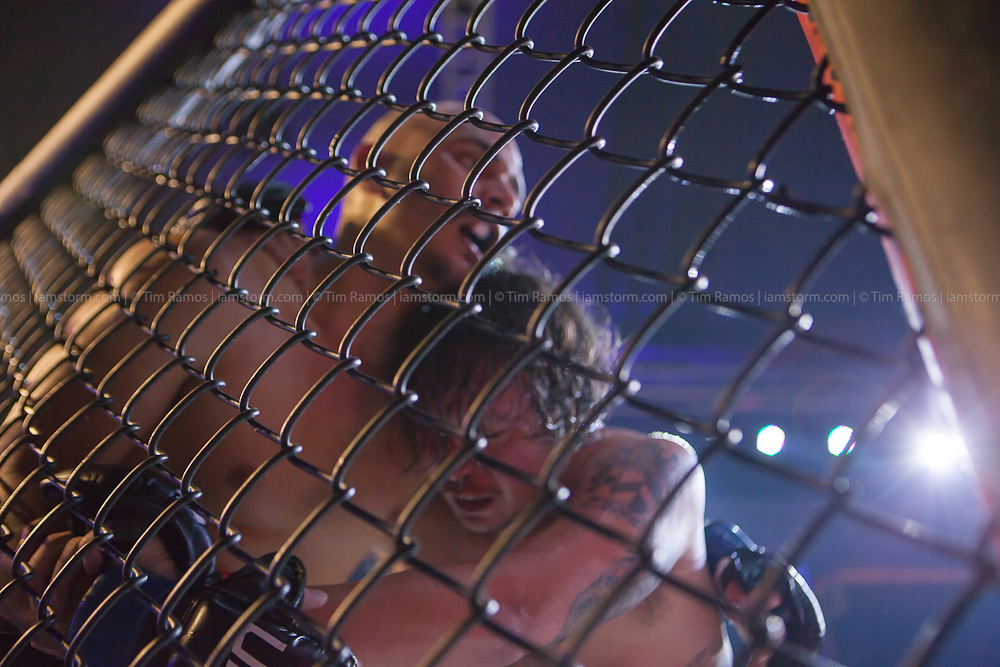 And I've probably rambled on too long and knocked out the wind out of this thing, so until next time. To Geisler and Matos, respect — although I do hope they both make better life choices next time around. Not every bar fight will be as rewarding.