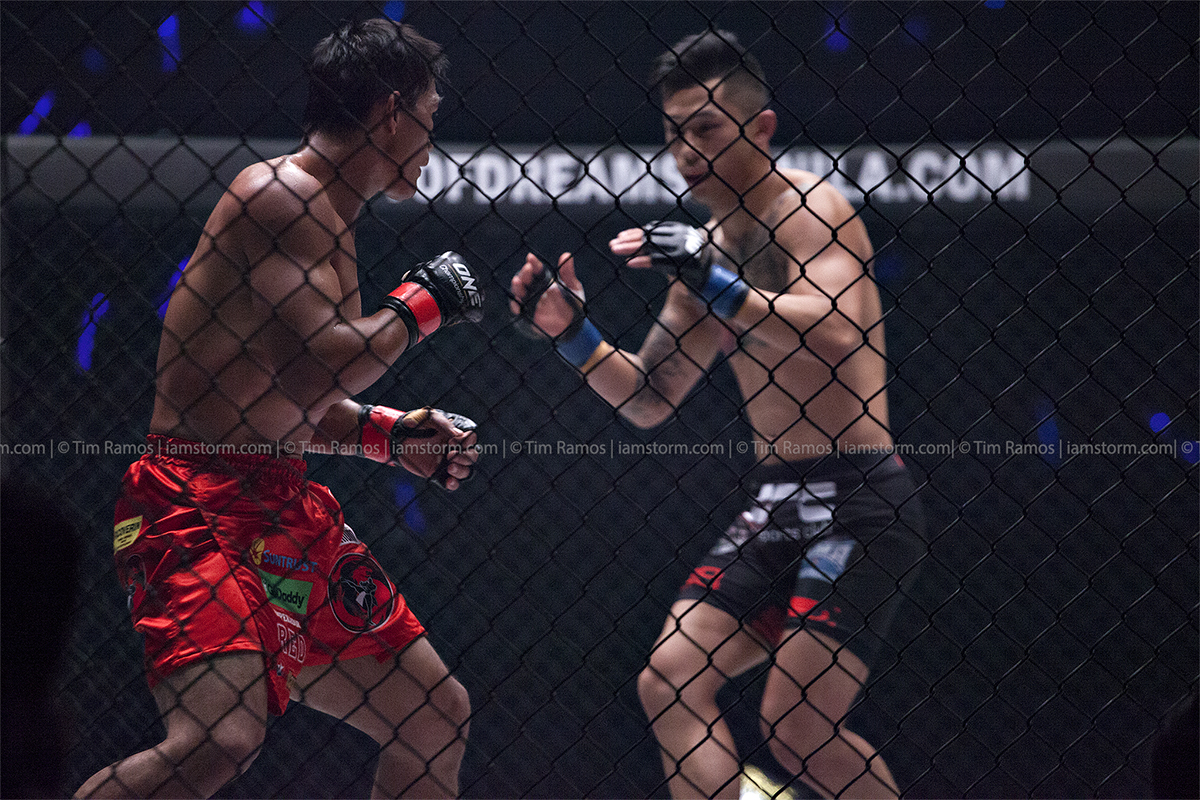 I'm writing this down before I touch or even look at my images from tonight, while the events from a few hours ago are still fresh in my mind. It's a first — I usually stagger off to bed or slog off to work after these events, but tonight, I think I can spare some time.
So Eduard Folayang is no longer ONE Championship's Lightweight champion. That distinction — along with being top dog of the Featherweight division as well — now belongs to Australian-Vietnamese fighter Martin Nguyen. Anticipating what used to be Folayang's unorthodox style that involved a lot of spinning backfists and kicks, Nguyen landed a quick and solid right counter after one of Folayang's signature moves, and just like that, the Filipino champ was down, and stayed down. He was able to walk out back to dugout, head hung low, but he did not make it to the post-fight press conference; I hope he is doing well.
From a Filipino fan's perspective, I'm not happy right now. Before the KO, Folayang was doing pretty well and was pretty assertive in the cage, landing some good shots in the process. He and Nguyen were powerful strikers and I had some confidence — at least as a casual observer/fan — that the Igorot fighter had an edge. That Nguyen was also moving up a weight class helped. Except a stunning counter, developed after countless hours of training, and in Nguyen's words, after taking "countless spinning backfists and spinning back kicks in the face" was the proverbial final nail in the coffin of the two Team Lakay members who fought in the main event tonight. Earlier, fellow teammate Danny Kingad blew his chance at the flyweight title after submitting to a rear-naked choke from reigning champ and BJJ phenom Adriano Moraes.
Fortunately, the other Team Lakay members in the card fared better. Kevin Belingon, once a contender for the bantamweight title, featured in the most exciting fight tonight after he displayed explosive power and technique to earn a unanimous victory over Korean Kevin Chung. Gina Iniong ground-and-pounded her way to a TKO win, and is now tentatively going to be Mei Yamaguchi's next opponent two weeks from now. Yamaguchi was supposed to rematch Angela Lee in another attempt to wrest the atomweight title from the latter, but Lee recently figured in a serious car accident and will likely be out of commission for a long while before she can be fit to compete again. Finally, Joshua Pacio is climbing back up the ladder, tooth-and-nail, ending his bout with fellow Pinoy Roy Doliguez with a spinning backfist that sent the latter to the canvas.
All in all, I think like in the past, it'll be a learning experience for Team Lakay. They could argue before that their signature all-rounder, unorthodox style worked, but Nguyen will just be the first of many that will effectively take Team Lakay's fighting style to task. ONE Championship Chairman and CEO Chatri Sityodtong said that Folayang will need a couple of fights more — after he heals up — before proving himself worthy to regain the title shot again. And that's all well and good, I think. Folayang and the rest of Team Lakay have much more room to grow, and I for one, am excited to see what they'll being to the table when they evolve once again.