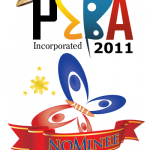 While I'm hoping I fare better in this year's Philippine Blog Awards, I've also joined a number of other blog competitions, one of which is the 2011 Pinoy Expats/OFW Blog Awards (PEBA). I'm thrilled and honored to have my nomination (not sent by me, incidentally) confirmed and accepted by the screening committee. Hopefully I move on to become one of the finalists, and God willing, win the thing come December. I am sure that I'm going to be up against stiff competition, so a 'bahala na' seems to be in order.
I put up this blog a couple of years ago to help showcase both my passion for photography as well  as for writing, and being able to express both and see myself improve, plus have some number of people comment and leave their thoughts here is enough reward for me. Winning a blog competition would be a welcome icing on the cake though, so here's to winning all the blogging competitions I've joined this year. Cheers!
That's it for now. Will resume regular programming soon.